Jerlisa Robinson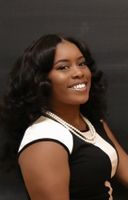 Background: 
Jerlisa Robinson is a mother of two. She graduated from Southern University A&M College. She has a  Bachelors of Science in Mathematics. Jerlisa is an Algebra I teacher at Tara High School. She is also a graduate student at the University of Houston (Curriculum & Instruction- Math Education).
Project Name: Just Like Me
Briefly explain your philosophy on why STEM skills are important for today's students:
"STEM skills are important for today's students because we use it everyday and everywhere in life. Even the simplest things in our life involve STEM."
What strategies do you hope to gain from this year?: 
"I hope to gain from this year new and innovative ways to teach students STEM. Give them a reason to love the field as much as I do. Students think STEM is complicated but it can all be so simple with a little bit of insight."
Download their presentation here
---
The STEM Fellows is a project of the Foundation for East Baton Rouge School System made possible by a generous grant from Capital One. The purpose of the initiative is to establish and support a cadre of "STEM Teaching Fellows" who, armed with content knowledge, innovative teaching strategies, and an entrepreneurial spirit, can support their colleagues and transform EBRPSS schools into institutions of innovative STEM teaching and learning. In 2019, thirteen educators in East Baton Rouge Parish Public School System were named STEM Teaching Fellows.