Edelsa Chalanczuk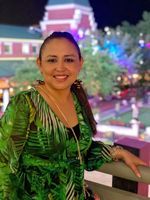 Background: 
"My name is Edelsa Kristely Chalanczuk. I was born in Choluteca, Honduras and for the past 18 years of my life, I have called the United States my home. I am able to do what I believe I have been called to do thanks to my amazing Argentinian husband, Michael Chalanczuk, and our sons, Michael Maximiliano and Michael Alexander. I am an elementary school teacher that continually challenges herself to be the best teacher she could be for the 21st century student."
Project Name: STEM Buddies Beyond the Classroom
Briefly explain your philosophy on why STEM skills are important for today's students:
"I believe that education, just like all other areas of society, has to change and become inclusive in its approach in order to reach all 21st century learners. STEM in the classroom is one of the foundational bridges that teachers can use to close the science, technology, engineering, and math educational gap for all students."
What strategies do you hope to gain from this year?: 
"I would like to learn how to properly develop the foundation necessary for a STEM school culture."
Download their presentation here
---
The STEM Fellows is a project of the Foundation for East Baton Rouge School System made possible by a generous grant from Capital One. The purpose of the initiative is to establish and support a cadre of "STEM Teaching Fellows" who, armed with content knowledge, innovative teaching strategies, and an entrepreneurial spirit, can support their colleagues and transform EBRPSS schools into institutions of innovative STEM teaching and learning. In 2019, thirteen educators in East Baton Rouge Parish Public School System were named STEM Teaching Fellows.