Tracy Gauff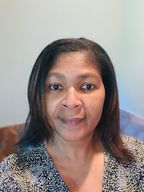 Background: 
Tracy Gauff is an ELA teacher at Capitol Elementary School. Her goal is to find new ways to integrate STEM into the literacy program to increase her students' learning. 
Project Name: Literacy Hands On
Briefly explain your philosophy on why STEM skills are important for today's students:
"With the advancement of technology and the push for students to become college and career ready, STEM is a major component.  Through STEM students are able to demonstrate application of many academic standards by performing tasks.  This method of learning exposes the students to higher order thinking strategies that can be effective in supporting the retention of the academic content."
What strategies do you hope to gain from this year?: 
"I hope to gain additional tools, strategies, and access to resources to better support the students that I serve."
Download their presentation here 
---
The STEM Fellows is a project of the Foundation for East Baton Rouge School System made possible by a generous grant from Capital One. The purpose of the initiative is to establish and support a cadre of "STEM Teaching Fellows" who, armed with content knowledge, innovative teaching strategies, and an entrepreneurial spirit, can support their colleagues and transform EBRPSS schools into institutions of innovative STEM teaching and learning. In 2019, thirteen educators in East Baton Rouge Parish Public School System were named STEM Teaching Fellows.