Sheila Bryant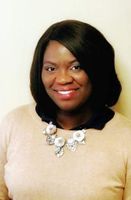 Background: 
"Sheila Bryant is an instructional specialist at Forest Heights Academy of Excellence. She holds a Master of Education in Administration/Supervision from Southern University. Sheila is also a National Board Certified Teacher in Adolescence Science."
Project Name: Full STEAM ahead
Briefly explain your philosophy on why STEM skills are important for today's students:
"Students and teachers should understand that STEM instruction is not only for those hoping to work in the math or science field. STEM instruction teaches life skills. Students need to see the creative, innovative and collaborative side of STEM education. STEM instruction also helps to develop students' problem-solving and critical thinking skills."
What strategies do you hope to gain from this year?: 
"Through my participation in the STEM Teaching Fellows I hope to gain the instructional strategies and practices needed to develop an innovative, engaging and effective STEM environment at my school. I want to be able to support students and increase student achievement as they put science and math into action.  
 Also as a teacher at a visual and performing arts magnet school I want to combine the STEM skills that I obtain through the institute  with the strong arts background/knowledge  available to me through the arts teacher at my school to develop a school wide STEAM initiative of Science, Technology, Engineering, Arts and Math."
Download their presentation here
The STEM Fellows is a project of the Foundation for East Baton Rouge School System made possible by a generous grant from Capital One. The purpose of the initiative is to establish and support a cadre of "STEM Teaching Fellows" who, armed with content knowledge, innovative teaching strategies, and an entrepreneurial spirit, can support their colleagues and transform EBRPSS schools into institutions of innovative STEM teaching and learning. In 2019, thirteen educators in East Baton Rouge Parish Public School System were named STEM Teaching Fellows.