Kristen Manning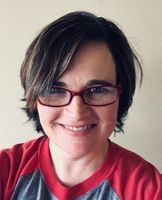 Background: 
"My name is Kristen Manning. I am the librarian at BRCVPA. I have been an educator for over 20 years. I believe learning should be engaging."
Project Name: Full STEAM Ahead: Exploring the Engineering Design Process Through Story Deconstruction & Re-engineering
Briefly explain your philosophy on why STEM skills are important for today's students:
"I love it when a student asks me, "why?"  It is at that moment I know that I have them hooked.  That inherent curiosity needs to be fostered & encouraged.  It needs to be saved. STEM skills are important because we live in a STEM dependent world.  We must train our children to be the artisans, scientists, engineers and trailblazers of the future when the future is, in fact, now.   In order to do this we must approach education with an attitude of discovery, problem solving and communication.  STEM skills engage students and instill a love of learning and discovery."
What strategies do you hope to gain from this year?: 
"I hope to learn from the amazing group that I am privileged to be a part of.  I also would like to build my confidence as not only a STEM advocate but as an educator who equips her students with tools to not only discover but express their findings in clear, respectful and inspiring ways."
Download their presentation here
---
The STEM Fellows is a project of the Foundation for East Baton Rouge School System made possible by a generous grant from Capital One. The purpose of the initiative is to establish and support a cadre of "STEM Teaching Fellows" who, armed with content knowledge, innovative teaching strategies, and an entrepreneurial spirit, can support their colleagues and transform EBRPSS schools into institutions of innovative STEM teaching and learning. In 2019, thirteen educators in East Baton Rouge Parish Public School System were named STEM Teaching Fellows.