Ronil Merto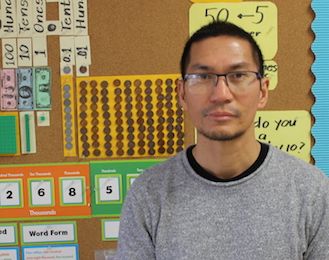 Background: Ronil is a mathematics teacher at Villa del Rey Elementary School. He received a bachelor's in elementary education from the University of the East and a master's degree in mathematics teaching from Southwestern University. Ronil is especially proud of his accomplishments at Villa del Rey - According to Ronil, 2016 LEAP results showed that 70 percent of Villa Del Rey 4th Grade students scored at basic and above in Mathematics, on top of 3rd and 5th graders in this school. Also, topping all other subjects.
Describe your STEM Fellows project.
"I did two. One is to build an art bot, which shows how changing the bot's design affects how it draws. The other one is designing and constructing and launching a paper rocket."
Have you noticed any changes in your students?
"STEM activities are really rewarding for them. I have seen with project-based learning that even the most unmotivated kids can actually perform and push themselves. One of my main challenges is classroom discipline, but when you have those hands-on activities, it gets them engaged."
What advice would you give to teachers trying to integrate STEM?
"They have to do it themselves. It's one thing to see it being done, or hear someone say you should do it, but to really understand its importance, teachers need to try it for themselves."
How can we raise awareness of STEM's value to parents?
"The number of participants is low, so sending out info isn't enough. We have to bring parents in, get them involved, have them see it for themselves. It's a challenge. It really takes a schoolwide effort, but we have to make them aware."
Anything else you'd like to add?
He was teacher of the year, and one of the four finalists for District Teacher of the Year at the elementary level. He was also a presenter at the EBRPSS professional development workshop on January 3rd.