Katrice Hall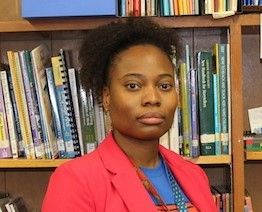 Describe your STEM Fellows project.
"With the STEM Fellows project, I feel it's a shared collaborative environment where we all get together and put our minds together to kind of figure out how we can increase STEM at our school and our community. To be honest with you, without the STEM Teaching Fellows, I don't think I would've thought about interacting with the community. So I've realized that's important, and because of that, I've decided to reach out to region 2 Mini-LACUE, which services East Baton Rouge, West Baton Rouge, and the surrounding parishes, and take what I've learned in this program and enhance it in Mini-LACUE using the robotics. I hope this is a program that continues year after year, and I hope that since we're the first STEM Teaching Fellows that maybe we can be mentors to the ones coming up. The program is needed because it gave us the confidence to get things off the ground at our schools because STEM is something that's not prominent in our school. But even when I was a classroom teacher, I still used STEM in my lessons when I could, because naturally it's easy to integrate math and science, and we're shifting that way with the new science standards anyway."
Have you noticed any changes in your students since integrating STEM?
"Wow...yes yes yes. We have a Google Classroom and we do robotics. Originally I was going to do STEM bins, but I decided to do those with my kindergarten and first grade, because they're not ready for any kind of robotics or anything, even with LEGOs, with the Maker Space, but I have such a huge waiting list of students. But the children love it. They learned how to code with code.org, that's how it started. And then it was easy for me to transition them into robots. Because of me being a part of STEM Fellows, it gave me a structure and a focus for that. And the funding, of course. The parents have been involved and said wonderful things about the robots. And as you can see, the students are very engaged. They want to know when's the next competition, they want to design a website - that was the decision of one of my peer coaches [one of the students], she wanted to make a website that shows all the things they've done and progress they've made with STEM. "
How can we raise awareness of STEM's value to parents?
"The children. That was the easiest way to do it. That's why I chose robotics because we're in the digital age now and the kids go home and they're like, "I'm in robotics!" and the parents call and ask me about it. And also maybe more family nights. I haven't been able to do that yet, but having nights where the kids can show their robots to their parents. I've had some after-school practices with children where the parents came and were like, 'ooh! THAT'S what you can do with LEGOs? I didn't know you could do all that.' So they kind of honed in on it and started helping their kids with it as well. To me, family STEM nights and hosting those kinds of things will get the kids involved which gets the parents involved."
Background:
Katrice Hall is an instructional specialist at Jefferson Terrace Elementary School who has a master's degree in educational leadership from Southern University. Katrice has been instrumental in driving STEM learning culture at Jefferson Terrace and is passionate about using projects and programming such as MakerSpace, STEM Nights, cross-curricular STEM projects, and professional development at both her school and at a district-wide level.
Do you have any advice for teachers looking to integrate STEM into their classrooms?
"Yes I do. Reach out for professional development so you can be a part of something that's collaborative. There's a misconception about STEM. People think it's all about science, but it's more about habits of mind, ways of thinking, and I think if you reach out and get some sort of professional development about STEM, you'll be a little more purposeful with it. For example, [this summer I had several opportunities to learn] - the STEM Institute, RISE in Washington, DC. as well as collaborative conversations and talking with the Foundation team, all of which helped me get more comfortable with getting STEM off the ground."
Anything else?
"I wrote a Donors Choose grant prior to becoming a STEM Fellow to get some LEGO WeDo robots, and those finally came in last week. So those will be added to what I get with the stipend money from STEM Fellows. I just think STEM Fellows is awesome. I really do. And I hope you continue it, because I think of it like a little tree that started small but will grow and branch out. I've recently reached out to partner with Westminster to bring the LEGO WeDos over there to see if we can get STEM off the ground there. When we went to the STEM Institute, they told us that 60% of our jobs are related to technology or the digital world in some way, so that's the thing I focused in on and decided to go that route with STEM. You should see the ideas of the students. They want to build robots for the homeless, they want to have agricultural robots out there, and I don't think I would've been able to pull that out of their minds without these robots to give that spark."
Finally - the work is paying off - My robotics students participated in a STEM Bowl at Baton Rouge High this year and won first place in both the Egg Drop and the Tower.