Karen Dafoe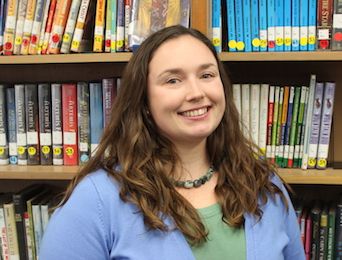 Background: Karen is a librarian at BR Center for Visual and Performing Arts. She received her BA in Archaeology from Boston University in 2007 and her MLIS, master's in library science from LSU in 2015. She worked at the East Baton Rouge Public library for 7 years before becoming a school librarian. Last year she was awarded a grant from the Foundation for East Baton Rouge Parish School System to create a library makerspace - which she claims to have propelled her into STEM learning and creating a "making" culture at BRCVPA.
Describe your STEM Fellows Project:
I'm creating a fully integrated STEM lesson plans to share with other elementary librarians. It's based on the fourth grade science standards, but it can really be adaptable for third through sixth grades. Students go through and pick a major topic they want to research, they define a problem, and then they go through the engineering design process. They create and build a solution, they design a presentation, and then they present to third graders. I've created a Google Classroom with documents and resources and everything that I can share with all the other elementary libraries in the district so they can reproduce the projects in their schools.
What do you hope to get out of being a STEM Fellow?
"I honestly wasn't sure what I'd get out of it. I'd been doing a lot of other kinds of STEM stuff; for example, when I got here my first year, I wrote a grant for a MakerSpace, so that's kind of where it was leading. So when I saw the opportunity, I thought, 'let's just see!'"
Have you noticed any changes in your students?
"They're definitely more engaged. There's fewer behavior problems, especially when you give them choice. They're engaged and interested."
What advice would you give to teachers trying to integrate STEM?
"Just give it a go. Try. Start small. Start with small projects so you can get an idea of how to manage things."
Has STEM Fellows changed the way you teach at all?
"Oh yeah. This is only my third year; before this, I worked at the public library, so the whole classroom teaching thing was new to begin with. It's not like I was an education major, I don't have a degree in education, I have a major in library science. It's a different kind of background. Lot more hands-on stuff, less whole group."
What excites you the most about teaching this way?
"Seeing how much the students are engaged and excited to come. At recess, [the library] is jam packed with kids. We have an open library and they come and they do the robots and they want to read or just be on their chromebooks. It's important to me they feel the library is their space. It's a little different than the normal classroom, but I think it's my job to promote the importance of libraries and make it a place where they want to be, and to promote life-long learning so they can see this is a place where you can not just read but learn about all different kinds of things throughout your whole life."
How can we raise awareness of STEM's value to parents?
"STEM Nights are good. We do sharing sessions here, where a lot of the art staff will present to parents, and children could present too. I don't know, just getting the parents involved, really. We have a STEAM Club and we did the Cardboard Arcade Challenge. There was a build day where the parents could come and help out. So I think just having more of those kinds of events would help a lot."
The STEM Fellows is a project of the Foundation for East Baton Rouge School System made possible by a generous grant from Capital One. The purpose of the initiative is to establish and support a cadre of "STEM Teaching Fellows" who, armed with content knowledge, innovative teaching strategies, and an entrepreneurial spirit, can support their colleagues and transform EBRPSS schools into institutions of innovative STEM teaching and learning. Currently, fifteen educators in East Baton Rouge Parish Public School System are named STEM Teaching Fellows.