Jessica Vicknair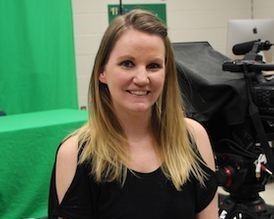 Jessica Vicknair is a technology instructor at Mayfair Laboratory School. She holds a master's degree in Educational Technology Leadership and was named a 2017 Teacher of the Year. She is also a Class Dojo mentor and a GoNoodle Ambassador for southern Louisiana.
Describe your STEM Fellows project.
"What I wanted was to bring STEM into ALL of Mayfair Lab's classrooms, not just the ones that teach math and science, so I went to the teachers and asked 'what is STEM?' and they said 'oh, I don't teach that.' So what I did was, I took a lesson that maybe they'd been teaching for years and I showed them how they could incorporate STEM. So my program is called "But I Don't Teach That." And now they love it. They try to [integrate STEM] at least one a week."
Have you noticed any changes in the students since introducing STEM into the classroom?
"Oh, definitely. They [students] are definitely more engaged. Especially the ones that are kind of, you know, active. As long as they have a focus, a goal to work on, can use their hands talk and can get up and move around - that's what has really changed our atmosphere here."
What advice would you give teachers trying to integrate STEM into their classroom?
"I would say don't be scared. Just dive in. The point of STEM, really, is to make things better. And it's ok to fail. So if you don't do it right the first time, try again. And that's what we're trying to teach the kids too."
Has STEM changed the way you teach at all?
"Yes, I think so, because my mind has been completely changed on how you do things. I used to teach first grade, and now I'm teaching 6th and 7th grade technology, I used to teach each subject on its own - math, then ELA, then social studies, and then science, and that was it - but since looking at STEM more in-depth and working with these teachers incorporating it, I've completely realized that STEM is in every single subject and you just have to not be scared to try it."
What excites you the most about teaching with STEM?
"The kids. You just see light bulbs going off, especially the ones who in a regular class don't ever sit down, don't get involved. They just do their work and turn it in. But you see those kids are the ones interacting now and learning things. So that's what excites me is you're reaching every kid."
How do you think we can raise awareness of STEM's value to parents?
"My goal for next year is to start a weekly newsletter of sorts, like a "STEM Tip of the Week" or something, to send to parents, where they can do something small at home and realize 'oh, so this is what my kids are doing.' I'm also starting a STEM section on our website where we can put pictures and activities and links and things like that. I really think if we can get the parents involved too, it'll be a true home/school experience."