Della Faulkner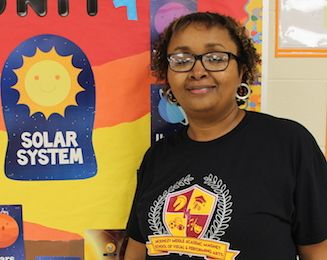 Background:
Della is a science teacher at McKinley Middle Magnet. She gained her bachelor's degree in Chemistry from the Southern University of Arkansas and a Master's Degree in Education Leadership from University of Arkansas. Della is particularly proud of her annual sponsorship of student field trips to Tulane University to attend STEM workshops. Students are engaged in science and engineering challenges and collaborate with Tulane's professors and students. This workshop has inspired many students to pursue careers in STEM which has led to an even higher interest in attending Lee High School because of their STEM program. She recently hosted a family STEM night on her campus.
Describe your STEM Fellows project.
"My project is dealing with potential kinetic energy. Students will construct paper roller coasters - and of course, since this is a visual and performing arts school, I decided to integrate the arts as well.
Have you noticed any changes in your students?
"I have. There's a heightened curiosity about it. They're very inquisitive. I get a range of questions from all subjects. Black Panther has actually sparked a lot of questions. When I was watching the movie, I was like, 'Oh my gosh, that's a lesson! And that's a lesson! And that's a lesson!.' When the kids came back after they watched the movie and they're like, 'Mrs. Faulkner! He had a kinetic suit, is that like kinetic energy?' So they're picking it up, seeing it all around them, all the different aspects of STEM education and how it applies to their lives and the opportunities that they have. And hopefully with our recent [Family STEAM] Night, they get the full spectrum of what STEM education has to offer.
What advice would you give to teachers trying to integrate STEM into their classes for the first time?
"It doesn't take a whole lot to impress kids. I remember when I first did the experiment with baking soda and vinegar in a Ziploc bag, it just wowed them. It doesn't take a whole lot. It doesn't take a whole lot of money. Dollar Tree has been my best friend. And don't feel like you have to reinvent the wheel. There are so many resources out there. Science Bob, Steve Spangler, Bill Nye, the list of resources that are out there go on and on. I used to be intimidated doing demonstrations and things like that, but once you get in the rhythm of doing it, you build your confidence up. Start off small and build from that."
Has STEM changed the way you teach at all?
"It has caused me to dig deeper in terms of inquiry. Basically my entire teaching career I've been exposed to STEM, but each year I find myself growing more and more interested in promoting this mindset and doing things that encourage students to fall in love with STEM. The past four years, I've taken girls and boys to Tulane University's STEM workshops that they have twice a year. Any opportunity in STEM that comes to me, I put it out there. Just throw caution to the wind and go for it. So my being a part of STEM Fellows is just one more aspect that allows me to do that."
How can we raise awareness of STEM's value to parents?
"I think through parent involvement. We have a lot of parents in STEM careers, so giving them the opportunity to talk to kids about the work they do. Like we had a unit on electricity, and the father of one of my students is an electrician, so the student made that connection and he and his dad would have all these conversations about electricity. I think incorporating parents, having some sort of parent outreach, having parents come into the classroom to talk about their careers, that will inspire the younger generation to pursue those careers as well."
Anything else?
"I was Teacher of the Year last year and a district finalist. I'm also a part of the district science curriculum team."