Cheryle Peters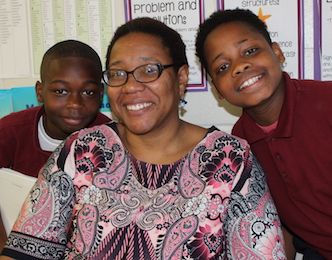 Background: Cheryle is a fifth grade teacher at Howell Park Elementary. She received a bachelor's degree in Electrical Engineering at Southern University, thus she claims having a love for engineering almost all of her life and considers her most important career achievement was instituting and managing the largest pre-college engineering in the state of Louisiana. The program was developed through her office in the Louisiana State University College of Engineering Minority Engineering Program. The program started in Baton Rouge and it allowed members from all schools in the parish. Chapters were also formed in Washington Parish and St. James Parish. As a result over 100 students participated in several local, regional and national academic and engineering competitions and won many awards.
Describe your STEM Fellows project.
"My STEM Fellows project has to do with giving the kids exposure to things that they wouldn't normally have exposure to. My whole idea is to provide parents with opportunities to take kids to things that are happening around Baton Rouge that may be free or are happening on Saturdays or Sundays. Things like LASM or going to astronomy. And I'd meet them there, but the parents would have to bring them. And what I'd like to see it evolve into is even being able to take them out of town. That's the end goal of my project."
Have you noticed any changes in your students?
"I think my kids had a hard time really thinking about problems, but since I've begun integrating, it expands their minds. So that's why I try to expose them to other things outside the classroom. They are changing. Their grades are picking up now that they're starting to think more than just giving information."
What advice would you give other teachers trying to integrate STEM into their classrooms?
"Don't be afraid to be wrong. A lot of times teachers want to be a knowledge guru, but don't be afraid not to know. It's ok to make a mistake. Part of learning is making mistakes. Sometimes I make intentional mistakes to see if the students catch it. Just try things, you may like it. I've been mentoring the teacher across the hall and she never knew anything about science. But now she's like, 'oh, the lessons are fun! We're having a good time!', so I think it works well. But you have to try."
Has being a STEM Fellow changed the way you teach at all?
"Being a STEM Fellow gives me the opportunity to listen to and meet with other teachers and see what's going on in their schools. For instance, Lauraleigh [Eddleman] has the aquaponics garden. So what we're going to try to do is grow some lettuce at our classroom, and then we're trying to plan a field trip to her classroom to see what the project looks like on a larger scale. And I wouldn't have had exposure to that without STEM Fellows, so it's very valuable to me."
What excites you the most about using STEM in your teaching?
"Well I'm an engineer, so I'm STEM all the way through and through. I like to see how the kids can think of things and I don't have to squash their ideas. They can tell me, 'well, I can do this', and I may have never considered that. So it gives kids the freedom to tell me what their ideas are, and I like that."
How do you think we can raise awareness of STEM's value to parents?
"First they have to figure out what STEM is and how it affects the students. That's why I feel my project is so important, because now I'm trying to get the parents out to see some things that are going on in our community. Visit these places, not just to hang out, but to participate, visit the booths, and so on. Go to LASM, look at the exhibits, go into the planetarium...you know, really take advantage of the things that are available to you. Parental involvement is the main thing that I'm trying to push. If the parents are excited, then the children will be excited."