Cecila Flores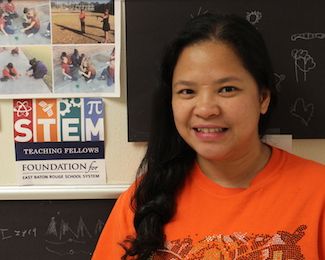 Cecila is a teacher at La Bellaire Elementary and holds a BS in education and a MS in curriculum & instruction, minor in english for speakers of other languages. In 2016, Cecilia was awarded Teacher of the Year. Interested in expanding STEM at her school, she has established a "STEM Week" for her class - introducing them what STEM is all about with fun activities hooking them immediately.
Describe your STEM Fellows project.
"My STEM Fellows project is a series of STEM projects based on whatever topic we're doing for science."
Have you noticed any changes in your students?
"Yes! And actually, one of my students is my assistant principal's kid, and she was telling me the other day, she goes, 'Hey Flores, why does my son want to buy some borax?' Because we were making slime and they were having so much fun they were like, 'Ms. Flores, we need to do this next time!' And they know that, like when we did the bridge, they made their little tower, and I showed them how engineers build the bridges and they were like woooow. So it changed how they see science and they're more interested. Because before, our school focus is on reading and these kids read, read, read, but now they're looking forward to having our science class. The other second grade classes, they do science for like two days or two times a week, but I do science everyday. But yeah, it changed how they see science now, and they're excited, and they go, 'is that really how a tower is built, Ms. Flores?' and I tell them yeah. So they did their tower project and they go 'oh no! We're going to fall!' because they needed to do a test after going through the engineering process where they shake their tables to see if it's going to fall. So it's really fun and it changed how they look at science."
What advice would you give to other teachers who want to integrate STEM into their classrooms?
"I think [many of them] think STEM is another subject, another thing to do, with all the stuff [the school board] wants us to do already. So I think you can include STEM even in something like reading. I used to think STEM had to be like robotics or making the LEGO work or whatever, but when I got deeper into it, I went to places like Teachers Pay Teachers and Instagram, and a lot of teachers are doing STEM and just kind of integrating it into their subjects. I think for teachers, I would just say don't be scared. STEM is not a subject, it's something you can integrate into other subject areas. Like with the tower, they built the tower, but it had dimensions and they had to measure it and that's math."
Has STEM Fellows changed the way you teach at all?
"The grant has definitely helped me purchase the materials I need. It really helps. Instead of me looking around my room or my house for stuff, which, you know, that's something teachers can do if they don't have the money to purchase the stuff, but it changed the way I see things because I go, 'well, I can make this more interesting and we can do dioramas for something like habitats,' or life cycles or whatever. It impacted me also because for Science and Math Night, which we're going to do next week, I think, instead of just having the kids answer a paper, now I can get them more involved in that. So it changed not so much the way teach, but the strategies I use. Before I make a move, I think about if my students could maybe build something or research. And it also makes me thinks these kids can do more. You know, with all this work they ask us to do, sometimes you get burned out and you say 'oh, my kids can't do this.' For instance, you might not think they can research something because they'll just play on the computer and look up whatever. But now, if the students have a question and I don't know the answer, they say, 'well let's research that, Ms. Flores!' Like with life cycles today, they wanted to know what color pupas are, so I asked them what keywords they could type into Google to find that and wrote down their ideas on the board, and they really like that. So this year it was really fun. I know I've changed the kids and their view on how they learn. It's just amazing how much more they can do with cotton and pipe cleaners than with pencil and paper. It was amazing, and STEM Fellows really helped me. My coworkers in second grade say things like, 'how did you do that? How did you get them to use glue guns? That's so scary! You're brave!' But it's really important, it helps them learn. Another thing is the STEM boxes on their tables; I couldn't have done that without STEM Fellows."
How can we raise awareness of STEM's value to parents?
"That is one of my goals when I wrote the grant. The kids in our school don't know what STEM is. It all started last year. We have a week of days in May where we don't have testing or anything and I was done with everything, so I started to do STEM activities with them. They said, 'Ms. Flores, this is fun!' and I thought, why didn't I think of this before? Around that same time, the email went out about this grant and I decided to do it so the kids can see, we can take pictures so the community can see, and during family events like Math & Science Night or Literacy Night - you know, making parents aware that this is STEM, this is how it works, and we're trying to get the students ready for a career in engineering or math or science. Make them love math and make it more fun because right now they're at an age where it's common for them to not like it. So if we get the parents involved, they can do it at home, and in that way I hope I can build that STEM awareness just by getting the kids involved and then they'll share it with their parents, ask them to come to Math & Science Night, and that kind of thing. Especially the ESL parents. Because that's one of our problems. We have many ESL students where this is their first time in the United States or they've been in other states where they teach the students in Spanish but not in English. So we have a problem with that, especially when it comes to homework because the parents can't help. So yeah, I think raising awareness through people seeing me do it will make them start thinking it's fun and that they can do it too. I know I'll be more effective if they see me doing it rather than talking about it and telling them what to do."
The STEM Fellows is a project of the Foundation for East Baton Rouge School System made possible by a generous grant from Capital One. The purpose of the initiative is to establish and support a cadre of "STEM Teaching Fellows" who, armed with content knowledge, innovative teaching strategies, and an entrepreneurial spirit, can support their colleagues and transform EBRPSS schools into institutions of innovative STEM teaching and learning. Currently, fifteen educators in East Baton Rouge Parish Public School System are named STEM Teaching Fellows.