Armetta Wright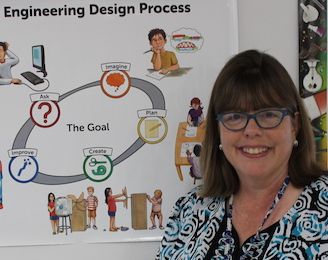 Armetta is a STEM Teacher at Magnolia Woods Elementary. "I am creating more of a school-wide STEM culture. We're already designated as a STEM school, but we're trying to expand it a little bit more. We have five accelerated student class - K, 1, 2, 3, and 4 - but we're trying to get in all of the classrooms more. I'm working right now on creating STEM Bins. They have different materials and pictures and challenges. For instance, you could show the students one of these pictures and have them figure out how to build it. There's also some writing tasks for them to do, such as 'write ten words about this structure'. Our STEM classes are already doing this sort of thing, but I wanted to get it into the other classes as well." 
Have you noticed any changes in your students since integrating STEM?
"I'm the STEM teacher in our school, so every students has STEM once a week. This is my fourth year teaching, so most of the students, if they've been here for a few years, they already know the engineering design process, they already know what engineers are, they already know so much. Through writing a bunch of grants, I've been able to secure 15 'Engineering is Elementary' curricula. Each grade unit will go through two or three of those curricula over the year. So ideally, if the student stays here the whole time, they'll get exposed to all 15 of those Engineering is Elementary units. For instance, we just finished units on acoustical engineers, green engineers, and chemical engineers. Yesterday we did Nepris and had a green engineer talk to the students."
What advice would you give teachers trying to integrate STEM?
Teachers don't have to go big, they can start really small. Even just having students create a model of what they're learning about is a good way to let them get hands-on experience.
What excites you the most about integrating STEM into classrooms?
STEM creates a level playing field in all types of students, and how often the lower level students can often figure things out first. It gives students the opportunity to explore and have a hands-on experience, along with teamwork. I might lay materials on the tables and at first students start making things on their own, but eventually they start working together and combining their creations into a table-wide project. STEM projects have taught the students that they don't have to get the right answer the first time. 
How can we raise awareness of STEM's value to parents?
We need to get parents more involved with things such as STEM nights and getting kids to talk and write about it more. When kids start engaging with STEM in that way, the parents get curious and want to know more about it. It's also important to let parents know about the variety of opportunities kids have, such as vocational schools (before or after college), because there are so many jobs today that didn't even exist when they were first entering the job market. 
Anything else you'd like to add?
"I'm grateful that we have STEM [in Baton Rouge] and it's a great program for kids that helps them a lot."
The STEM Fellows is a project of the Foundation for East Baton Rouge School System made possible by a generous grant from Capital One. The purpose of the initiative is to establish and support a cadre of "STEM Teaching Fellows" who, armed with content knowledge, innovative teaching strategies, and an entrepreneurial spirit, can support their colleagues and transform EBRPSS schools into institutions of innovative STEM teaching and learning. Currently, fifteen educators in East Baton Rouge Parish Public School System are named STEM Teaching Fellows.