Grab 'N Go Meals for Students in East Baton Rouge Parish During the Covid-19 Closure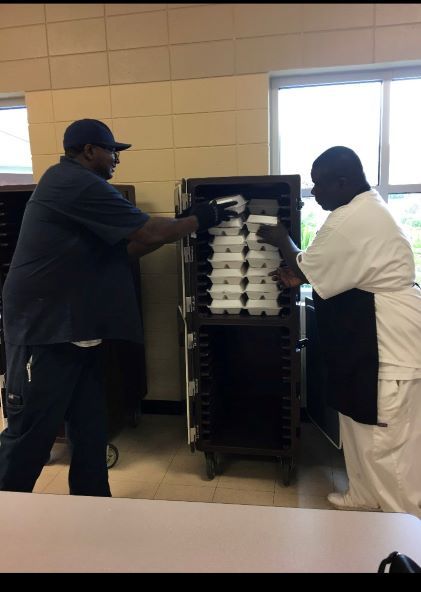 On Friday, March 13th, in response to the Covid-19 pandemic, Governor John Bel Edwards ordered that all public K-12 schools in Louisiana would be closed Monday, March 16th through Monday, April 13th. Depending on the status of the public health crisis, this four-week closure could be expanded. The impacts of this closure go beyond disruptions to our children's education. The East Baton Rouge Public School System (EBRPSS), the second largest public school system in the state, serves over 41,000 students. Every student is entitled to one lunch and one breakfast free of charge under a USDA program called Community Eligibility Provision. Cumulatively, the EBRPSS serves 55,000 meals daily across all of its schools. School meals in this district follow the recommended Dietary Guidelines for Americans and offer healthy choices to students. EBR has made menus healthier by adding more fruits, vegetables and whole grain rich foods to the menus. For many students in our parish, school breakfasts and lunches are the only guaranteed, balanced meals of their day. The EBRSS is committed to making sure its students are not left hungry during this current health crisis.  
Moving swiftly, EBRSS opened seven school sites across the parish beginning Wednesday, March 18th, only the third day of the four-week closure. As of Monday, March 23rd another two sites will be opened.  All children 18 and younger, no matter their physical address or school of enrollment, will be able to get a meal if they visit any one of the school meal sites. 
Northeast Elementary, 13801 Pride Port Hudson Rd., Pride, LA 70770 
Progress Elementary, 855 Progress Rd., Baton Rouge, LA 70807 
Woodlawn Elementary, 8160 Antioch Rd., Baton Rouge, LA 70817 
Wildwood Elementary, 444 Halfway Tree Rd., Baton Rouge, LA 70810 
Capitol Middle, 5100 Greenwell Springs Rd., Baton Rouge, LA 70806 
McKinley Middle, 1550 Eddie Robinson Sr. Dr. Baton Rouge, LA 70802 
Park Forest Middle, 3760 Aletha Dr., Baton Rouge, LA 70814 
Glen Oaks High*, 6650 Cedar Grove Dr., Baton Rouge, LA 70812 
Scotlandville Pre-Engineering Academy*, 9147 Elm Grove Garden Dr., Baton Rouge, LA 70807 
Glen Oaks High, 6650 Cedar Grove Dr., Baton Rouge, LA 70812 
Scotlandville Pre-Engineering Academy, 9147 Elm Grove Garden Dr., Baton Rouge, LA 70807 
Check the EBR website for updates to the site list here.  
While supplies last, families will be able to pick up pre-packaged breakfast and lunches for children 18 years of age and younger, between 10 a.m. and 1 p.m. on weekdays during the mandated school closure period (March 16, 2020 – April 13, 2020). At least one child must be present in order to receive school meals. Non-profits, churches, and other organizations may also request group orders to distribute to children at their own sites (minimum order of 20) between the hours of 7:30 am and 9:30 am.  As of Friday, March 20th, the EBRPSS has served nearly 14,000 meals and they hope to continue to increase both the number of meals and feeding sites.  
In addition to information related specifically to child nutrition, the EBR school system's website has published additional Covid-19 related information, including supplemental educational resources for children sheltering at home.  
If you would like to financially support EBRPSS initiatives in response to Covid-19, please donate here.