LASM's 2019-2020 Adventure Planner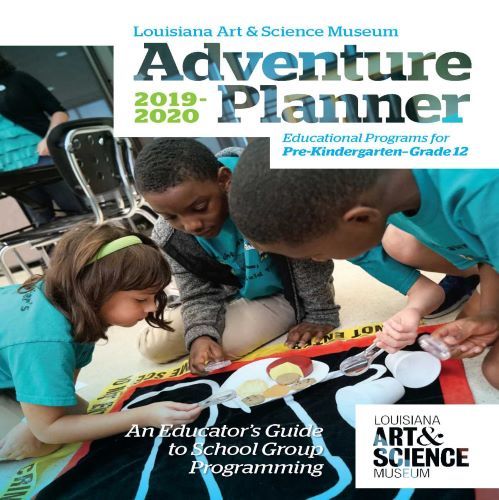 The Louisiana Art and Science Museum is continuously updating and reinventing itself to provide a quality and unique experience for all patrons visiting the museum. In an effort to inspire, lifelong learning for students they have released their most recent Adventure Planner, which includes hands on classes, planetarium shows, interactive theater, gallery guided tours, and much more. 
The recent update helps students to understand the relevance of STEAM education in their everyday lives. The programs at the LASM empowers students to recognize opportunities that will encourage both success in school and in future career paths.    
To assist in the expansion of LASM's school programming, purchase tickets for the Museum's 34th Annual Gala, CHROMA: Color Your Senses, which will be held September 20. Proceeds from the sale of Gala tickets, Grand Raffle tickets, silent auction bids, and sponsorship go toward the Museum's school programs, which served approximately 98,000 school program participants in 2018. For more information, to purchase tickets, or to become a sponsor, visit lasm.org/gala.
The Adventure Planner has been mailed to educators throughout Louisiana and is also available online at lasm.org/ap. Educators needing assistance in customizing a day of learning for their students at LASM should email reservations@lasm.org.