FEBRSS and ADF Announce Grant Awards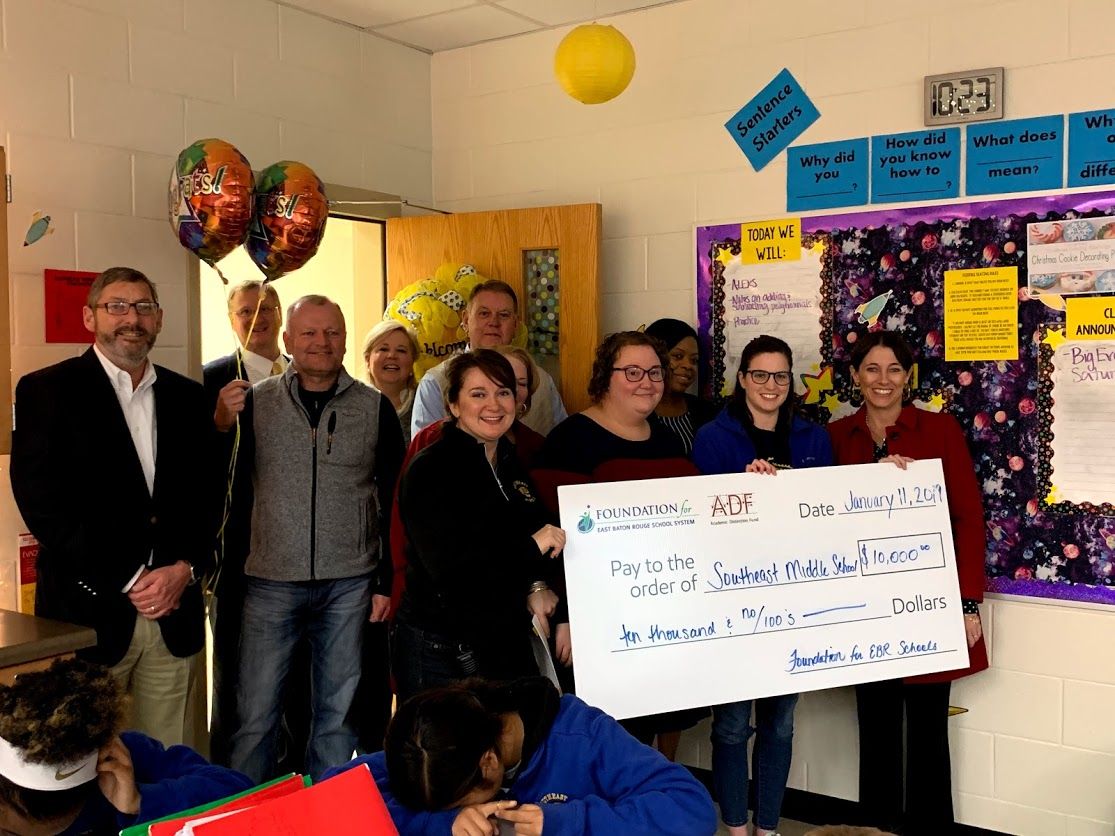 The Foundation for East Baton Rouge School System (FEBRSS) and Academic Distinction Fund (ADF) announces grant awards totaling $100,000 to local schools and classroom teachers.
ADF and the Foundation for EBRSS are funding projects in elementary, middle, and high schools in East Baton Rouge Parish School System to invest in imaginative ideas which will enhance the quality of learning and stimulate student academic achievement in the classroom. These two organizations are partnering to bring instructional materials and supplies to schools and classrooms in East Baton Rouge Parish School System (EBRPSS). 
There are 29 funded projects at 21 different school locations. A total of 50 teachers will participate and more than 4,500 students are expected to benefit. Funded projects will begin in January 2019. Each participating school will receive varying amounts of grant dollars to go towards high priority projects on their campuses. Largest grant awards are $10,000. Average grant award is $3,450.
The two organizations made surprise visits on Friday, January 11 to announce the grants. Three schools were selected for in-person notifications: McKinley Senior High, Southeast Middle and Shenandoah Elementary School.  Teachers at 18 other schools were awarded grants as well.
List of teachers receiving grants and grant amounts awarded:
Johnalynn Jackson, Capitol Elementary School
Other teachers involved in the project: Johnalynn Jackson Brittany Bush, Melisha Jenkins, Jessica Anderson, Cindy Stull
Sharmayne Rutledge, East Baton Rouge Parish School System, Collaborative pilot program at Capital and Park Elementary Schools.
Debra Westbrook-Taylor, Career & Technical Education Center
Other teachers involved in the project: Gentri Williams and Yolanda Simmons
Karissa Sorrell, Shenandoah Elementary School, Park Forest Elementary School
Other teachers involved in the project: Karissa Sorrell, Jolie Gonsoulin
Jarquell Wilson, Riveroaks Elementary,
Other teachers involved in the project: Patricia Van Lieu and Trudi Griffin
Destiny Cooper, McKinley Senior High School
Other teachers involved in the project: Anna West and Alex Torres
Shalika Scott, Scotlandville Pre-Engineeering Magnet Academy
Karen Dafoe, Baton Rouge Center for Visual and Performing Arts
Rachel Cervantes, Twin Oaks Elementary

Neal Hebert, McKinley Senior High School
Tara Mitchell, Park Forest Elem Creative Sciences and Arts Magnet
Other teachers involved in the project: Zakia Keyes, Nadia Davis, Ariel Dorsey, and C. Chimezie
Kate Risbon, Greenbrier Elementary School
Susan Varnado, Southeast Middle School
Vinh Vu, Greenbrier Elementary School
Katrice Hall, Westdale Heights Academic Magnet School
Ms. Heidi Eckert, Southeast Middle School
Lauren Gyorgy, Southeast Middle
Nicole Landry, Southeast Middle School
Aubrey Nelson, Shenandoah Elementary
Jamie Johnson, Glen Oaks Park Elementary School
Stacie James, Westdale Heights Academic Magnet (WHAM)
Armetta Wright, Magnolia Woods Elementary
Other teachers involved in the project: Carmelyn Roney, Abigail York, and Penelope Kendrick
Jerlisa Robinson, Tara High School
Christon Causey, Southeast Middle School
Other teachers involved in the project: James Rice and Nikki Cavalier
Alton McGee, Glen Oaks High School
Jaquincia Williams, Northeast High School
Other teachers involved in the project: Onetha Albert
Tyler Colson, Park Forest Middle School
Vanessa Begat, Lee Magnet High School
Mrs. Sarah Breaux, LaSalle Elementary