Make a difference this summer - to bring STEM to underrepresented youth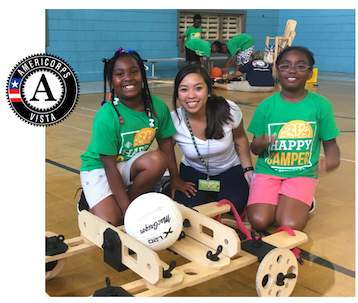 Our AmeriCorps VISTAs continue to be an invaluable asset to the work we do in our STEM mentoring programs. Currently, we have openings for our Summer Associate program, as well as year-long service.
AmeriCorps VISTA members live and serve in some of our nation's poorest urban and rural areas. With passion, commitment, and hard work, they create or expand programs designed to bring individuals and communities out of poverty. In addition to receiving a living stipend, VISTAs are awarded an education grant at the end of their service term. Learn more: http://stemupbatonrouge.org/vista-openings
SUMMER Associates (20 openings) - Summer Commitment (May 30-July 27)
These VISTA members will serve in a summer STEM camp for elementary and middle school students. As a group, members will assist in locating, modifying and delivering high-quality STEM projects at a BREC park.
YEAR-LONG VISTA Members -
These VISTA members will serve an entire year supporting STEM mentoring programs as well as the BR STEM Network's goals of increasing STEM learning opportunities for all students and awareness and engagement for our entire community.