Baton Rouge Celebrates Engineering!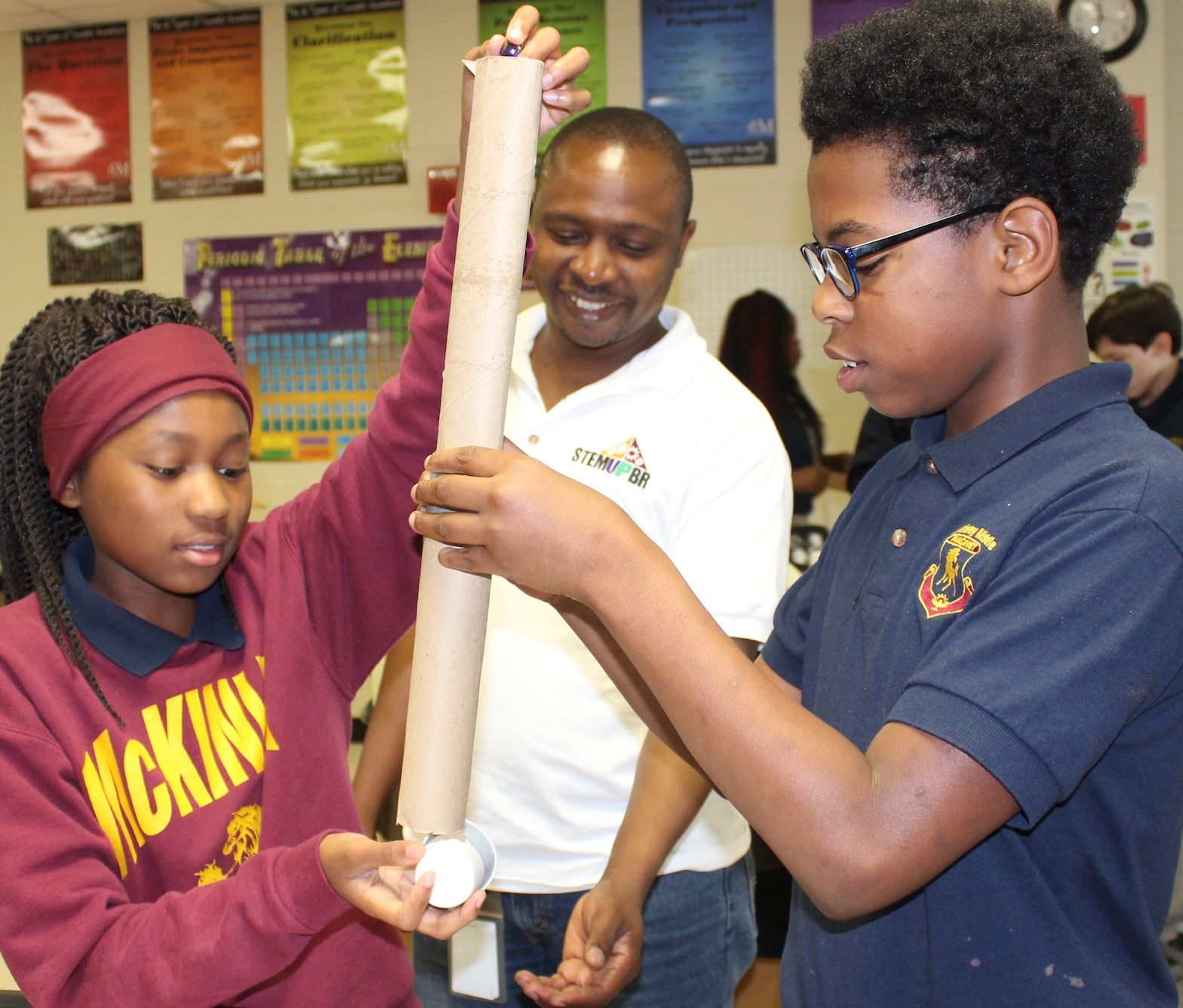 A Week-Long Event: A Year-Long Commitment
Feburary 19 - 24 & Beyond
Engineers Week is a time for everyone to celebrate and wonder what the next big innovation will be. It's also a great opportunity for volunteers and educators to inspire students by engaging them in hands-on engineering outreach. Show them that their school subjects can help solve real problems. And, of course, encourage them to wonder, "Is engineering my future?"
Wonder how Baton Rouge will celebrate this week?
MONDAY 2/19: INTRODUCE A GIRL TO ENGINEERING DAY - ExxonMobil Women's Interest Network (WIN) - Local high and middle school girls will be paired with ExxonMobil employees to engineer a science-based activity and gain insight into the wonders of science, technology, engineering and math.
TUESDAY 2/20: STEM FELLOWS MEETING - Foundation EBRSS - Fifteen EBR STEM Fellows meet monthly to share best practices they are driving at their schools this year. In fact, on Tuesday, Fellow Karen Dafoe will present will present a "Integrating STEM in the Elementary School Library" workshop for EBR librarians. Learn more about STEM Fellows.
WEDNESDAY 2/21: ENVIRONMENTAL ENGINEERING CHALLENGE - City of Baton Rouge's Environmental Services Division, Foundation EBRSS and Lee High. Teams of eighth graders will tackle an environmental engineering issue: Runoff!
THURSDAY 2/22: FUTURE CITY NATIONAL COMPETITION - Scotlandville Pre-Engineering Magnet heads to D.C. to compete against 44 national finalists from US, Canada and CHINA! This year's theme: "Age-Friendly City". Future City charged middle school students to respond to and address the challenges in designing innovative solutions that can serve an urban area's older population.
THURSDAY 2/22: McKINLEY FAMILY STEAM NIGHT - Guests include: 3DX Printing, Lee High Robotics Team, Baton Rouge High Chemistry Club, LSU Biology and Chemistry Departments, Southern University, LIGO, Knock Knock Museum, BRCC, McKinley Middle's Math Counts Club, and some of McKinley Middle's awesome faculty. (6-7:30pm in cafeteria)
FRIDAY 2/23: ACTIVATE CONFERENCE HACKATHON - Activate Conference and Foundation EBRSS partner to host a hackathon where high school students use "City of Baton Rouge Open Data" resources to solve a relevant issue. Title Sponsor: The City of Baton Rouge. Hackathon Sponsor: Antares Technology Solutions.
SATURDAY 2/24: LOUISIANA ART AND SCIENCE CENTER
-BASF Kids Lab - Chemistry is Bananas! - What do you have in common with a banana? Put on your gloves and goggles in order to discover the answer to this question. You will be rewarded with a firsthand look at an amazing material that makes all life possible. Each participant will also receive a cool backpack with surprises inside! Next Kids Lab (March 10th)
-Dream Big: Engineering Our World (IMax) - Narrated by Academy Award® winner Jeff Bridges, Dream Big is a first of its kind film for giant screen theaters, setting out to transform how we think about engineering. From the Great Wall of China and the world's tallest buildings, to underwater robots, solar cars and smart, sustainable cities, Dream Big celebrates the human ingenuity behind engineering marvels big and small, and reveals the heart that drives engineers to create better lives for people around the world.
-SATURDAY, 3/10: 5th ANNUAL ENGINEERING DAY - In partnership with LSU College of Engineering, this fun-filled festival will feature interactive stations showcasing a wide array of engineering and design specialties including robotics, 3D printing, bridge building, electricity, nanoscience, architecture, chemistry, solar powered cars, medical physics, and more. Presented by Albemarle and sponsored in part by Arkel Constructors, BASF, ExxonMobil, and LSU's STEM Talent Expansion Program.