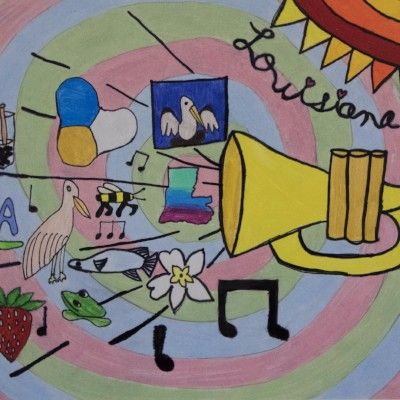 In celebration of Baton Rouge's Bicentennial BATON ROUGE, (Sept. 15, 2017) – The Red Stick Project and Capital Area Transit System (CATS) are celebrating Baton Rouge's Bicentennial with an Art Contest. The contest celebrates 200 years of Baton Rouge's history and future in public transportation. It embraces ALL types of public transportation.
We invite Baton Rouge youth from a diversity of schools including private, public, parochial, charter, home schools and any others to participate. Winning designs will be displayed in advertising spaces at bus shelters, on buses, inside buildings and more.
This contest is in collaboration with Arts Council of Greater Baton Rouge and Division of Fine Arts of East Baton Rouge Schools. The deadline to enter is Wednesday, October. 4, 2017. Designs should be created with STEAM (Science, Technology, Engineering, Arts & Math) principles in mind and should include one or more public transportation modes, which were used in Baton Rouge over the past or future 200 years.
The design format is 8.5 X 11 inches on a two dimensional surface in a visual art medium of choice. Contestants must include the student's name, school, age and grade, guardian's name and contact number on the back of the artwork. All artwork should be delivered or mailed to Arts Council of Greater Baton Rouge, 427 Laurel Street, Baton Rouge, LA 70801. Celebrate the Bicentennial and share this information so ALL kids in ALL schools in "Red Stick", Baton Rouge, have the opportunity to participate. All Baton Rouge kids are "Red Stick" kids.
Contact: Evelyn Ware, Red Stick Project, Board Chair, 225-571-6134 For more information regarding contest rules contact: Leea Russell, Arts Council, 225-344-8558
The mission of the Red Stick Project is to restore pride, purpose and passion in Baton Rouge communities through the arts. The Red Stick Project recently produced a room of nostalgic murals, "Memory Lane," at an assisted living facility for Alzheimer's residents. Other public arts include, "Starry Night Over Red Stick" at BREC; a series of French impressionistic murals on Harry Drive; "Wheat Fields in the Sun" on Van Gogh Ave.; a 3-D mural on Titian Ave.; military murals at a veterans' shelter and more.
This program is supported in part by a Decentralized Arts Funding Grant from Arts Council of Greater Baton Rouge in cooperation with Louisiana Division of the Arts, Office of Cultural Development, Department of Culture, Recreation and Tourism, and Louisiana State Arts Council.