Network Overview
STEM education is a critical next step for Baton Rouge area's continuing efforts to prepare EVERY child and the entire community to thrive through high-quality science, technology, engineering, and math (STEM) education.  A strong STEM education equips students with knowledge and skills that are necessary for a fast-paced, information-driven world.  By learning how to work through problems systematically, STEM education helps students become resilient, critical thinkers and capable, contributing and productive adults, thriving in a technologically-driven world.
Now more than ever, careers of many kinds require this kind of thinking, so for a strong workforce, we need to foster these skills in all of our community's students.
The BR STEM Network is a collaborative partnership among community partners that is helping inspire and prepare all BR youth to succeed, lead and innovate in STEM fields and in any career path they chose.  Led by the Foundation for East Baton Rouge School System and representatives from the East Baton Rouge Parish School System, the local higher education system, community organizations, employers and STEM institutions, BR STEM is dedicated to addressing STEM at all ages throughout their lives and in all places - in schools, out-of-school time, professional development, work-based learning, mentoring and volunteering, and events.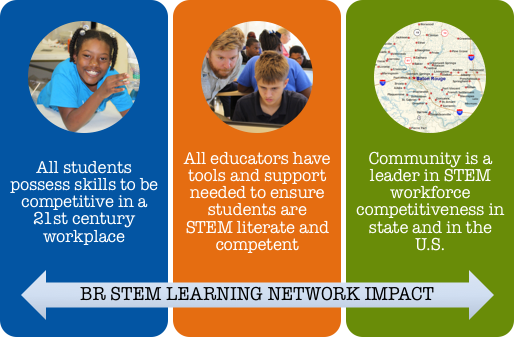 As BR STEM is still in early planning stages, the Network has identified goals and immediate priorities for increasing the number of students possessing skills to be competitive in the 21st century workplace.
Increase student interest, participation, and achievement in STEM.
Increase number of effective STEM educators and leaders in all settings.
Increase meaningful business and community engagement in STEM programming.
Increase broad family and community support for STEM education as a priority for Baton Rouge region.