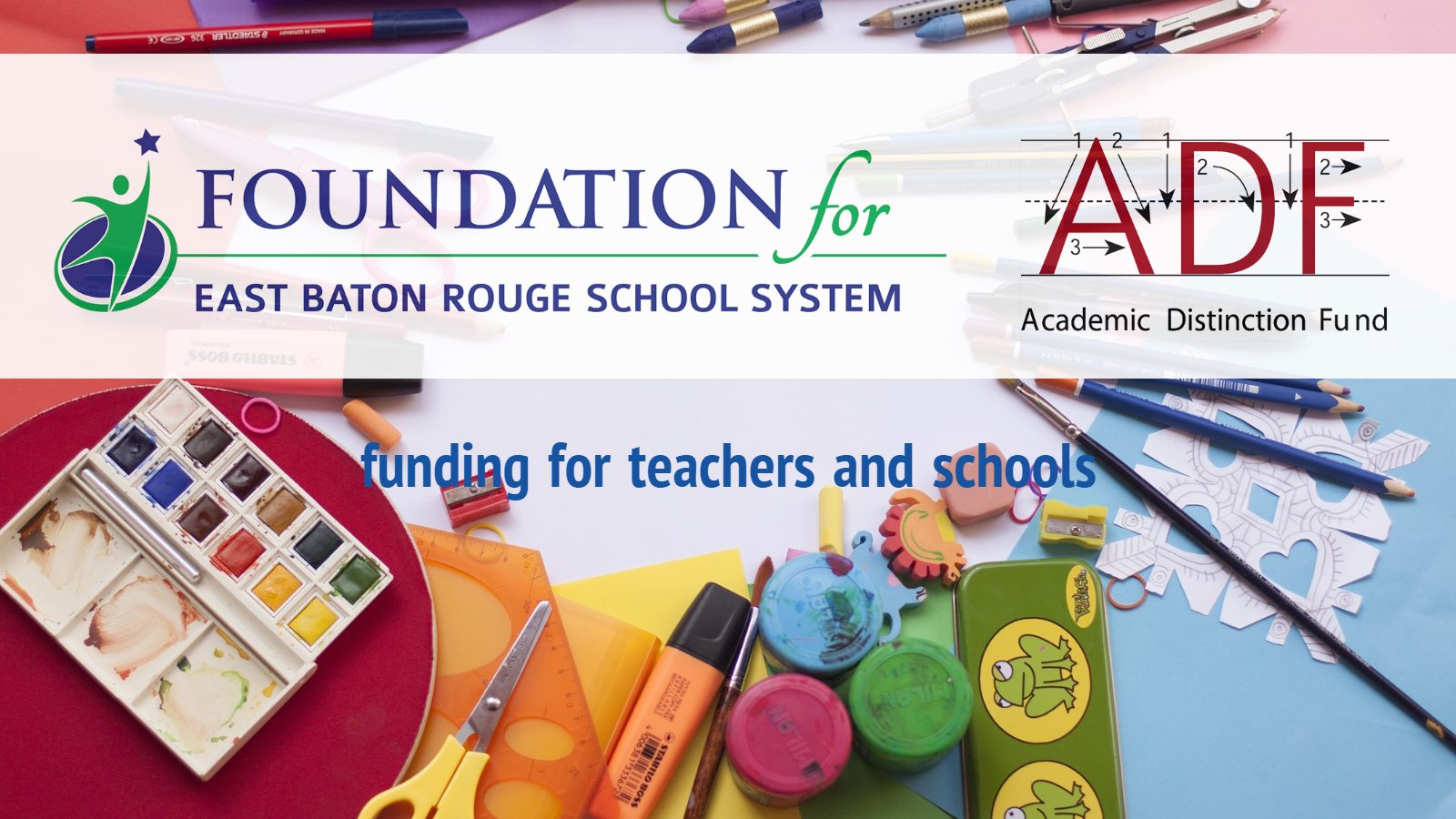 ADF Teacher and Classroom Grants
The Academic Distinction Fund (ADF) and Foundation for East Baton Rouge School System (FEBRSS) exist to support academic excellence in East Baton Rouge Parish School System. ADF and FEBRSS are seeking proposals from elementary, middle and high school teachers in East Baton Rouge Parish School system to put imaginative ideas into action which will enhance the quality of learning and stimulate student academic achievement in classrooms and schools.
 
---
All applications should be submitted via online portal. 
Click Here for a downloadable copy of all instructions and questions on the application to assist in preparation of your proposal.
---
APPLICATION GUIDELINES
Please read carefully to fully understand guidelines and expectations.

GRANT AWARDS:
Funding to support projects in classrooms, across grade levels or even school-wide is available through ADF. Grants will be made available to classroom teachers or to schools. Grant awards for individual teachers will not exceed  $2,500 annually and schools (or teacher teams) will not exceed $10,000 annually.

Projects must be innovative and have potential for replication in other schools in East Baton Rouge Parish School System. 

All funds are distributed through Class Wallet online payment system. Teachers may order directly from Class Wallet or submit receipts for reimbursement. All grant recipients should be prepared to receive funds via electronic funds transfer (EFT). All reimbursements require documentation of expenses before payments will be made. Teachers must adhere to school and district level policies for all expenses. All donated funds should be spent on expenses for items on the approved project budget. The FEBRSS will approve expenses according to the outlined project budget.

Principal approval is required for all projects. 

APPLICATION DEADLINE: 
Applications must be completed by December 3, 2018 at noon.

NOTIFICATION OF RECIPIENTS:
Recipients will be notified approximately 6-8 weeks from submission deadline.

A signed memorandum of understanding (MOU), documentation of project implementation  and evaluation will be required of all grant recipients.
DIRECTIONS FOR PDF DOCUMENT: Download file. No grant applications should be delivered to Foundation EBRSS office or sent via email or mail. This document is provided to assist you in preparation of your application. Final applications will be collected via online submission. It is suggested that you answer all questions in a word document and copy your answers into online form at https://www.surveymonkey.com/r/ADFgrantapp

Save your word document for reference.