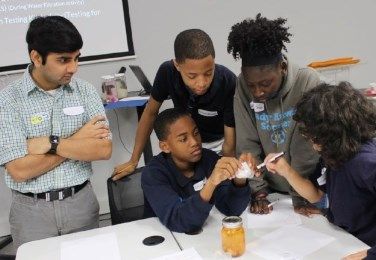 Mentoring a young person in the STEM fields should start as early as pre-school, but many students have people nearby in the community who can serve as role models. Last week teams of EBR eighth graders expanded their first-hand knowledge of STEM careers by participating in EngineerIT, an environmental engineering project co-sponsored by STEMup BR and Louisiana Women in Technology. Mentors serving in this project were none other than the City of Baton Rouge's Department of Environmental Services (DES).
Many students do not know that they can achieve in STEM, or even if they are interested in STEM topics for a variety of reasons – lack of exposure to STEM professionals and relevant learning experiences being critical factors, among lack of encouragement at home. The annual EngineerIT event provides an excellent opportunity for students and their teachers to immerse themselves in a real-world issue and creatively solve the problem. This year's first place winner – Westdale Middle and second place winner – Sherwood Middle won an opportunity to be continuously mentored by members of LA-Wit and the STEMup Mentoring Team up until the Louisiana Department of Environmental Quality's state-wide Envirothon competition, which will be held in April.
The 2017 themes for the event were water quality, water pollution, and sewer backups, which has become a serious environmental issue for many communities, including Baton Rouge. Michael Lowe, (DES), facilitated the discussion on the importance of safe drinking water and keeping it pollution-free. DES mentors facilitated discussions and explorations of physical, chemical and micro-organismal pollutants, allowing students to create a water filter out of 20oz soda bottle and performing chemical testing to check the nitrate, phosphate, chlorine, dissolved oxygen and pH levels of freshwater from LSU lakes. In addition to the water pollution activity, students were mentored throughout a research activity that involved proper disposal of FOG (fats, oil, and grease) which is a major cause of sewer backups. As FOG-Busters, students were challenged with using the internet to explore FOG best practices and initiatives to stop improper disposal of FOG. Teams were responsible for engineering a design for a device that could stop FOG buildup in pipes and created an online animated presentation advocating best practices for eliminating sewer back-ups.