LSU Red Stick Digital Festival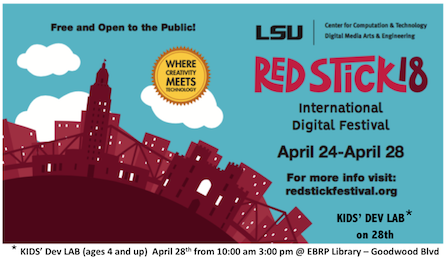 Great event sponsored every year by LSU Center for Computation and Technology @ EBRP Library on Goodwood Blvd from 10am - 3pm. Youth will be introduced to storytelling by using stop motion animation and robots. SPONSORS: LSU, Foundation EBR and Knock, Knock Children's Museum. VOLUNTEERS NEEDED: To assist youth with projects. Please go to volunteer sign up page to volunteer.
KIDS' LAB (10:00 a.m.- 3:00 p.m.) Ages 4 and up; minors need parent or guardian present. Included activities: Exhibits by the Knock Knock Children's Museum and STEMupBR/Foundation for EBRSS – Fairy Tale Tech, NASA (with space ice cream samples), and more.
WORKSHOPS - Three workshop sessions will be held. Minors need parent or guardian present and class size is listed below for each workshop.
11:00 a.m.-12:00 p.m. - VR Demo, no limit, Conference Room 102, Ages 11 and up on the 1st floor - Join us as we enter the world of Virtual Reality with the Oculus Rift!
1:30 p.m.-3:30 p.m. - Arduino Music Box, Ages 11 and up, 4 slots, Build a music box that lets you play notes and songs from an Arduino Kit! Materials will be provided in workshop. - sign up on the Conference Room A door.
2:00 p.m.-3:30 p.m. - Sonic Pi w/ Raspberry Pi, Ages 11 and up, 6 slots. We'll go through putting together a Raspberry Pi and do a few simple exercises with Sonic Pi, a program that will let you live code music! Sign up on the Tech Lab door.
MAKING EXPO (1:00 p.m.- 5:00 p.m.)
All ages appropriate; minors need parent or guardian present - Booths by Electronic Arts – with playable demos of games; LSU's Digital Media Arts & Engineering program, and digital makers from around the area.