SQLSatBR 2019 REGISTRATION CLOSED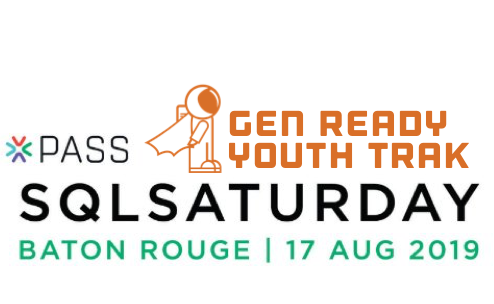 Sorry, WORKSHOP IS FULL.
Back by popular demand, SQLSaturday Baton Rouge will be offering a trak for kids! The track will run for the full day of SQLSaturday Baton Rouge, starting at 9am and ending with a showcase hour for all parents and the public to attend, so the kids can show off everything they created and learned for the day.
Basic rules:
- The content will be geared for kids entering 4th - 8th grade.
- We welcome high schoolers to contact us and apply to "work" the day, for free, but for volunteer hours.
- Parents of kids can either attend with their kids all day in the kids' classroom, or, attend SQLSaturday sessions, but MUST REMAIN ONSITE.
- Snacks provided, lunch of jambalaya to be served. Please note any special dietary needs or allergies when registering.
- Tickets are $10 to cover supplies and snacks. Tickets are not refundable after July 12, 2019.
- Please register all children at once.
- What: Kids will play with stop motion animation, LEGO Robotics, arts and crafts, 3D printing using the engineering process, and more!
- When: During the day of SQLSaturday convening in Baton Rouge, on August 17, in one of the classrooms nearby.
The track starts at 9am and the kids will learn and create up until the start of the final scheduled sessions (one of the sessions will be a one-hour parents "showcase" in the same classroom that is open to parents. Then everyone can join the entire SQLSatBR community in the main auditorium at 4pm for the fun raffle and giveaway.
Parents: Parents MUST REGISTER for SQLSaturday Baton Rouge 2019 (free), here: https://www.sqlsaturday.com/867/registernow.aspx
Parents must remain ONSITE, either with their kids in the GEN READY trak, or enjoying other SQLSatBR classes.
- Registration: Registration will close when we are at capacity, and refunds are available if plans change so that another kid can join.
- Partner Description: SQLSaturday Baton Rouge 2019 is presented annually by the Baton Rouge User Groups corporation, in cooperation with many local user groups including the Baton Rouge SQL Server User Group (An Official PASS Chapter) and the Baton Rouge .NET User Group. More information at: BRSSUG.org, BRDNUG.org. Baton Rouge User Groups is a 501c6 corporation. Fees are not tax-deductible.