Lauraleigh Eddleman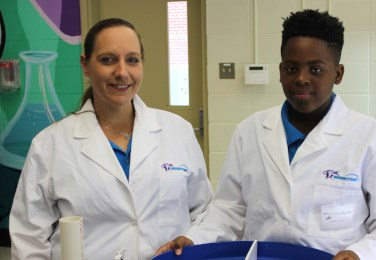 Lauraleigh Eddleman, STEM Fellow - Brookstown Middle Magnet Academy
Ms. Eddelman, an outstanding science teacher in EBR for over 14 years, did not start her career in teaching immediately. Early in her career after gaining a bachelor's degree, she channeled her passion for science and obtained additional degrees in order to teach middle school sciences. Over the years she has demonstrated to peers and leaders her skills as a science content expert and as well as her confidence in the utilization of 21st century pedagogy and integration of technology. Last year she was given the opportunity to plan and implement a STEM Aquaponics/Hydroponics curricular program with leaders at Brookstown.
In her day-to-day work with fellow teachers and as a STEM Fellow, Ms. Eddleman strives for high standards while sharing modern and innovative ways of teaching, such as design thinking and project- and problem-based learning which is clearly evident every day in her aquaponics/hydroponics labs. Throughout the planning and implementation of the Aquaponics program, she welcomed industry professionals into her classroom, strategically utilizing their expertise. From engineers at ExxonMobil to aquatic life experts at LSU, mentors and partners are a natural part of the program providing an additional layer of students' exposure to professionals - so critical in inspiring students and building STEM identity in underrepresented in STEM career fields.
As a STEM Fellow, Ms Eddleman plans to share her ideas for increasing student interest and skills through project-based learning and a "how-to" manual for building STEM school culture and community partnerships with peers across the district.